RETRO STYLE QUALITY PROFESSIONAL SRS / AIRBAG RESISTANCE EMULATOR KIT 0-11.9 OHMS
DESCRIPTION
Quality Built for professionals, very useful when it comes to SRS / Airbags troubleshooting, testing airbag faults is a breeze, enabling you to simulating the resistance of a faulty or missing device to ensure the system is fully functional, making troubleshooting a lot more simple and accurate, avoiding the expense of purchasing unnecessary parts.
You can also simulate different resistances inc a short circuit, no need to disconnect emulator, just turn both knobs to "0" ohms. You can also watch the ohms live data on your compatible diagnostic scanner change, whilst increasing / decreasing the resistance, proving the wiring and the SRS ECU are OK.
SIMPLE TO USE:
Emulator resistance is easily adjustable, the left control knob goes up 1 ohm per click and the right hand knob goes up in 0.1 ohm per click giving you a total of over 100 different resistance's between 0 ohms and 11.9 ohms. So for example say you wanted to test at 6.8 ohms simply turn the left hand knob to position 6 and the right hand knob to position 8 it really is that simple .
The below Video is for general information on the emulators ONLY & is NOT part of this listing.
NOTE:
Some vehicle makes, when accessing SRS / AIRBAG live data on a diagnostic scanner, may not display the resistances of the SRS devices also if you have more than one faulty srs / airbag device, then you will have to work through them one at a time.
These units are
Quality British Handbuilt
in the
UK
, they are
NOT
mass produced, thus we check every step of the assembly process. Every unit is unique (appearance may differ slightly from pictures).
You are purchasing 1 x SRS ASSIST RESISTANCE EMULATOR 0.0 - 11.9 Ω ONLY.

FREE PACKET of 110 x Mixed .25w (1/4w) Resistors & cleaning cloth included,
all resistance values & quantities are listed below, resistance values are written on the strips to save you time, no need to look up colour codes:
Multiple items in pictures are for info only.
If you wish to purchase items from more than one listing, then please add to basket / at checkout
Don't pay
, just ask seller for invoice and we will amend the postage charges accordingly, depending on the total value of items purchased.
SPECIFICATIONS:
This emulator was designed originally for srs / airbag diagnostics, but has also proven very useful in other fault finding procedures. This emulator will enable you to simulate over 100 different resistances including "0" ohms, any of these resistances can be selected by turning the selector knobs to the required test resistance.
All resistances are Max .25 watt ¼ watt +/- 3% tolerance.
Professionally quality printed vinyl resistance dial fascia (that won't fade away unlike some home printed labels).

2 x rotary switch that clicks into any chosen position.
The Case material is ABS Plastic and the dimensions are approximately 75mm x 48mm x 27mm + knobs.
Highly flexible long life test leads approximately 200mm Inc exit rubber anti-stress grommet & pins.

FOR MORE INFO. on our Range of Quality Professional SRS Resistance Emulators SEE OUR OTHER ITEMS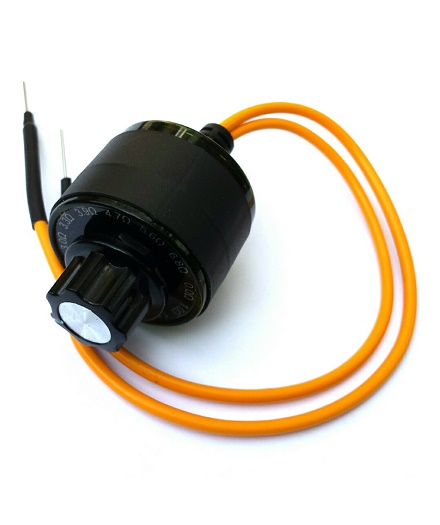 Terms & Conditions
YOU UNDERSTAND what these items can be used for and also how to use it as No instructions are provided.

NOTE: if you have more than one faulty SRS / Airbag device, then you will have to work through them one at a time You may have to reset / clear the SRS / Airbag fault codes in the ECU, every time you select a different resistance, unless you're lucky & select the correct resistance first time.
This product is NOT a replacement for any SRS / Airbag part & is NOT a reset tool, it has been designed specifically as a diagnostic aid.
As Per eBay Guidelines , We are unable to change your shipping address once we received your payment.
Please make sure your postal address is up to date and current.
If you wish to cancel your order then you can send back the item UNUSED and UNPACKED for a full refund.
All our product have been checked and packaged in good condition.
All Buyers that do not ask for combined postage total invoice or have purchased multiple items. We reserve the right to post all purchased items in the same package. even though you may have paid multiple times. we are unable to refund you for the postage, once you have paid. If you have purchased items from multiple listings, and have paid for standard post, we may at our descresion upgrade the postal service used to a tracked service meaning you will receive all your items at the same time and also safely. This is at our discretion.
WE ARE NOT LIABLE FOR ANY DAMAGE CAUSED BY THE USE OF THESE ITEMS; HOWEVER YOU CHOOSE TO USE THEM.
Returns & Refunds
We offer a 30 day money back guarantee. If you are not satisfied with our product, please return it to us unused within 7 days and we will issue refund.

Any return of faulty items we will cover the return postal cost. Please note, if you don't want the item for any other reason postal charges is yours. Any return, please send by recorded post only.

If you didn't receive the item, please wait for maximum 14 days and kindly inform us within 14 days. Prior to return, Please contact us, We will give you return shipping address.
IMPORTANT NOTICE - PLEASE READ
When you receive purchased articles and if you do not require it any more or feel it is not as described, please contact us immediately. We offer replacement / full refund for undesired procurement's.

Please note that opening 'Case - Negative Feedback or Neutral Feedback' does not help anyone. In fact, it is a time consuming procedure for eBay and vendor.

Instead, we request you to contact us directly. We assure you that we will try our best to resolve any issues. Rather than use the 'eBay Resolution Centre, please provide us with at least 'Two Working Days' to redress your grievances.

We generally solicit your wholehearted support in this endeavor, thanking you in advance for your understanding.
Customer satisfaction is our Number ONE priority
We are dedicated towards after sales care and if you have any problems with the product on delivery a full refund will be provided. However, returns must include all items undamaged, in original condition, original packaging etc within 7 days.
Please ensure that you include all the relevant details such your eBay id, your email address, the item number and your full contact details otherwise this will result in a delay or your return item not being processed.
We will post all items in the most appropriate packaging to ensure that they are not damaged on dispatch.
Within the UK. Should an order not get delivered. please contact us for help. Courier deliveries are insured against lost. Royal Mail do not consider an item of mail lost until after 15 working days in the UK or 30 days for all other countries.
We cannot be held responsible for delays caused by Royal Mail, your local postal service or by International Customs Inspections we are not responsible for any customs charges.
Thanks for understanding.
All purchases will go through eBay secured checkout to ensure that your order is processed without any delays. After you have made your purchase you can either click on 'pay now' or follow the instructions in an automated email that you will receive shortly after your purchase. During the checkout, you can make an immediate payment by PayPal or select an alternative method of payment, and receive the necessary payment details.
We are a UK based company based in London .
We have great experience in designing, manufacturing, supplying Emulators, Tools & at the best possible price. You can be sure that you are purchasing great value items with superior quality in a secure and safe environment.
Our goal is simple; provide the best quality goods that at the most reasonable price without compromising on Quality.
With highly experienced, friendly staff that can assist you with any query as we truly can provide a one stop shop for all your products.
If you have any questions or concerns please contact us via eBay messages
Working Days: Monday - Friday
Working Times: 8.00 AM - 4.00 PM
Customer Care (8 AM - 4 PM)
Note: Please use only eBay messaging system instead of emails.